Tile That Looks Like Wood
Wood look is one of the most popular trends in flooring, and tile is no exception to this trend. Tile is known to be a durable versatile flooring product, and advanced technology has made it possible to make tile look as real as wood. Wood look tile is available in both ceramic and porcelain options. It is designed to replicate the aesthetic appeal of natural wood and is a long-lasting alternative.
Manufacturing and digital printing technology are ever-changing and have contributed to the development of realistic wood look tiles. These tiles can replicate the look of different types of wood species, colors, textures, and tones. Wood look tiles come in plank options, and can even vary in size to create a more realistic visual.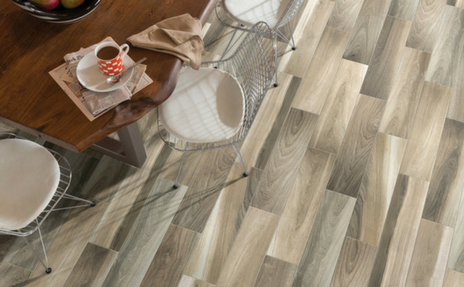 Benefits of Wood Look Tile
Besides the obvious differences in materials, the differences between wood look tile and hardwood is that wood look tile does not need to be refinished, is resistant to moisture and heat, and is also very simple to clean. Since tile is naturally moisture resistant, it is not susceptible to warping, cupping, or bowing like hardwood is.
Wood look tile is much easier to care for than hardwood, requiring only occasional mopping and sweeping to prevent build up on the surface of the tile and can resist almost all stains and scratches that hardwood cannot. Unlike hardwood, wood look tile can be installed in just about any space in your home. Porcelain tile is durable and resistant to heat and water, so you can install wood look flooring in places like your kitchen, bathroom, laundry room, even in the mudroom. Not only can you have a unique style, but now you can have a unified look to your home by extending your wood look tile into multiple spaces.
Visit Hawaiian Carpet One Floor & Home in Kahului to take advantage of our selection of wood look tile.