Luxury Vinyl Tile Flooring
Manufactured flooring has improved drastically over the past decade, and today's luxury vinyl tile is so realistic, your house guests or customers will be none the wiser. The perfect addition to all your interior spaces, luxury vinyl tile has recently proven popular for kitchens and bathrooms. Offering up all the endless possibilities of actual tile, along with the convenience and value of a luxury vinyl, luxury vinyl tile can truly make itself at home anywhere. At Hawaiian Carpet One Floor & Home we offer up all of the latest luxury vinyl flooring products, including all your favorite vinyl tile styles.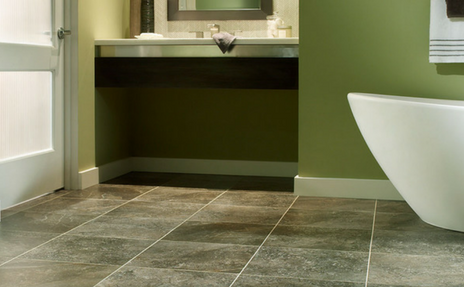 Benefits of Luxury Vinyl Tiles
Luxury vinyl tile is a great option for residential and commercial settings alike. Made to resist moisture, this tile can perform like no other and is easy to install. Some types are even waterproof, and unlike traditional tile, there's no messy grout to contend with.
Your luxury vinyl tile can be used in wall installations as well as flooring. Luxury vinyl is soft and warm to walk on, and subfloor preparations aren't necessary during installation. Upkeep is extremely simple once your tile is installed. A quick sweeping or mopping from time to time to enough to keep it looking its best.