Luxury Vinyl Plank
Luxury vinyl is an up and coming floor type that brings many advantages to homes. Luxury vinyl plank has improved significantly over the years, and today it mimics the look of real hardwood floor while also being a durable, family-friendly flooring option. At Hawaiian Carpet One Floor & Home in Kahului, we have a showroom full of luxury vinyl plank and tiles to explore. We are your local retailer, and our flooring professionals can help you get started on updating your home into the home of your dreams.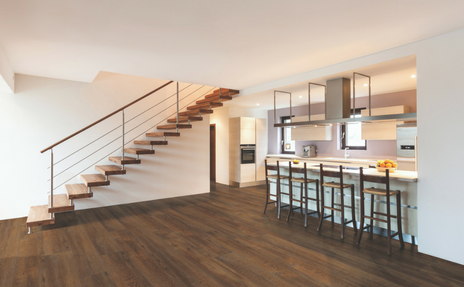 Benefits of Luxury Vinyl
When comparing luxury vinyl to solid hardwood side by side, it is often hard to tell the difference by only looking. Vinyl has come a long way, and what once was a pronounced difference between the two floors is now very subtle. Along with its realistic, charming appearance, luxury vinyl brings a solid construction to the homes it is installed in. Luxury vinyl's layered structure makes it a sturdy material and ideal for high-traffic areas. Each layer provides support to the next, and the top wear layer is resistant to scratches and scuffs. With vinyl, you will no longer have to think about what kind of shoes you are wearing, or saving your floors from red wine. Vinyl planks are unlikely to chip or crack, even in areas where traffic is constant. If you want stress-free maintenance, vinyl planks could be perfect for you.
Luxury vinyl is an excellent alternative to solid hardwood because it still looks authentic without the price. Because the planks are not made entirely of wood, they are much less pricey. Luxury vinyl can also be installed in areas that you wouldn't expect. Bathrooms, kitchens, and entryways are some of the most common spaces where people enjoy luxury vinyl. These planks are not affected by climate or rises in humidity because they are not made of solid wood. This can be especially beneficial for those living in areas with high humidity. Further, luxury vinyl is nearly maintenance free. Sweeping the floor is needed when dirt collects, but this floor does not need to be refinished or stained after it is installed.
Luxury Vinyl Plank Brands
COREtec

Our wide collection of luxury vinyl will have you

wondering how soon you can get started on

installing luxury vinyl in your home. Our

COREtec brand of luxury vinyl combines

superior functionality with styles like no other.