Maui's Granite Countertop Specialists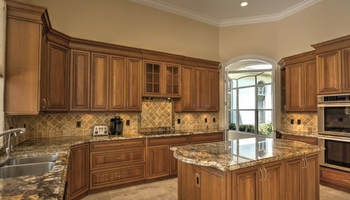 We at Hawaiian Carpet One are certainly Maui's countertop specialists. We offer a selection of quality granite countertops in our Kahului, HI showroom, so be sure to stop by today!
What makes granite the perfect choice for countertops? For one thing, granite is extremely stylish. There are so many colors, patterns, and other looks available, so granite can complement any kitchen design. Plus, no two pieces of granite are ever exactly alike, so your new granite countertop is sure to be one-of-a-kind!
Granite is not only noted for its appearance; it's also quite functional as a countertop. It resists chipping and scratching, and it also is heat and water resistant. Granite, as a result, is ready for anything life throws its way! Also, even given its strength and durability, granite's surface remains polished and smooth.
Our Granite Selection
American Olean: American Olean offers a few different options as part of its Granite Collection. These granite options are stylish and durable, so they are great for kitchens and even bathrooms. Also, American Olean granite can be used on walls and backsplashes as well.
Daltile: Daltile is known more for its tile selection, but it also offers long-lasting granite countertops. There are many different styles available, so no design option is impossible. Daltile countertops are rated for strength and resistance, so be sure to work with us to make the right choice.
MSI Stone: For a seemingly endless number of styles from which to choose, check out MSI Stone countertops. MSI stone offers over 250 color patterns, as well as different finishes. Therefore, MSI Stone granite is great for kitchen countertops, bathroom countertops, and other surfaces.
For something more unique, check out our glass countertops. Learn more here.