Why Choose Cork Flooring?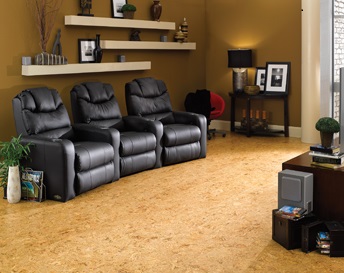 If you're looking for the perfect wood flooring for your home, be sure to consider cork flooring.
Cork flooring comes in a variety of shades, tones, and textures, making it a flexible choice for many different home designs and lifestyles.
Two of the many advantages of cork are its durability and the comfort it provides a home's occupants. If you spend a lot of time standing in a room, for example, you'll appreciate the comfort of cork floors as compared to other wood flooring options. Cork floors are also resistant to breaks if someone in your family accidentally drops a glass or dish. Additionally, cork is easy to maintain and muffles sound well, and these are added bonuses in a busy household!
When you choose cork flooring, you're making an eco-friendly purchase that's good for the environment. Cork comes from the bark of the cork oak tree, so the rest of the tree is unharmed and continues to grow. Cork floors are also good for your health. These floors repel dust, so they are easy to clean and are an excellent option for anyone with allergies, asthma, or other respiratory conditions. In addition, cork is non-toxic, naturally flame resistant, and not prone to grow mold or mildew.
The natural beauty of cork — along with its many comfort, health, and environmental advantages —makes it a smart and fashionable choice for anyone evaluating wood flooring options for their home. Visit Hawaiian Carpet One in Kahului, HI to learn more!
Be sure to check out our hardwood flooring selection as well. Learn more about hardwood.